Free stuff! Specifically, some of my fanart that I decided looked good as forum avatars or device wallpapers or things like that, in convenient sizes and/or aspect ratios for those things. You're welcome to download and use these, but I ask that if you're going to share these resources anywhere (e.g., to let people know about them) that you give me credit as the original creator (as outlined in the site's content use policy). Please don't claim my work as your own.
See also the Zodiac Pokémon for little banner/signature/profile images featuring the zodiac signs as Pokémon.
Avatars/Icons/Profile Images
Little squares you can use to identify yourself on a forum or social media website or what have you. They're generally all 200x200 to accommodate sites that use larger images, but you can shrink them down to a smaller size if 200x200 is too large.
Alolan Starters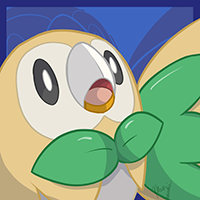 Sylveon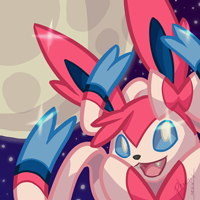 D&D Rayquaza
Phone Wallpapers
Available in a few common sizes/aspect ratios.
D&D Rayquaza
Normal Rayquaza on black: 720x1280 - 1080x1920
Shiny Rayquaza on white: 720x1280 - 1080x1920