First tiny blunder ahoy, and I haven't even properly started the game yet: Apparently I can't use the F8 key to take screenshots after all. Maybe that's only when you're debugging/playtesting a game? Nuts. Found a different way to take these screenshots efficiently, anyway, so on we go!
Title screen! It's... sunflowers! For some reason! Very pretty sunflowers, certainly, but I guess I was expecting some sort of pokémon. idk maybe sunflora is actually the big bad death legendary we'll be annoying in later releases. Could work; sunflora does kind of creep me out.
Hm... no professor intro yet, I see? They probably just didn't have time to fit it into the demo and will have it ready later. Aaaanyway, the disembodied voice asked me a question. I've been a dude in the last few games I've played, and I'mma probably be the gender-neutral protag when I play Uranium again after its next major update, so let's be a girl this time!
Her official name is Sophie, but we'll be calling her Phoenix, of course. (Hm, these screenshots seem to be washing out the colors a little bit... sorry about that! I'll try and find a better program later.)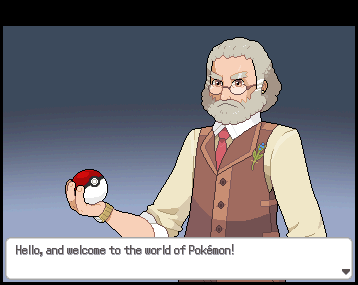 oops never mind lol. Looks quite nice, with lip flap and everything, although his design is maybe a touch too similar to Rowan's for my liking. This is Professor Hawthorne, and shortly he'll be giving me a tiny magical monster friend with which I may beat up other tiny magical monster friends.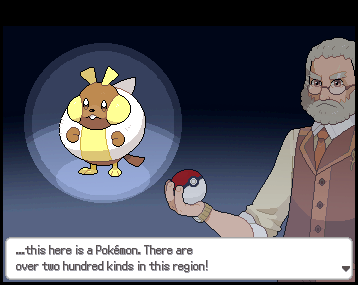 This is not the tiny magical monster friend I'll be receiving, but it is our first fakemon! It's a zuzumi, the region's resident pikachu clone. We'll only be seeing zuzumi and forty-nine of its companions in this demo rather than the 200+ Hawthorne very rudely teases us with.
Hey, Hawthorne's on TV! I guess that's why it wasn't him who asked the boy/girl question; we can't answer him through our television. Especially not one so... antiquated. The reason for my quest has become clear: Tiny Magical Monster Friend and I must travel the region, punching the money out of other children and their pets so that we can save up for a big-screen smart TV!
Apparently Hawthorne's gone to Apalis Town to do more research, and has invited any interested people to come and help him out. Sounds like that's where we'll be headed first. I hope there are lots of rich kids in Apalis Town. Smart TVs are expensive, y'know.
This appears to be my room, and the overenthusiastic girl and the dude currently disrespecting my need for a healthy amount of personal space are probably my rivals, April and August.
We do? Oh, well, that's convenient. (Also some of the letters are bolder than others for some reason? It keeps happening in April and August's names, too. Huh.) Anyway, April is excited about the recent broadcast because she admires Hawthorne's work. August doesn't seem to care. April doesn't care that August doesn't care and vacates my room at top speed. I guess we follow her.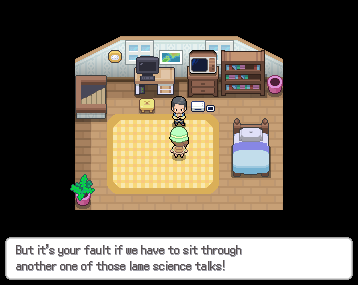 Yeah, but that starter ain't gonna walk up here and give itself to me, is it? Also, I like the attention to detail with the sprites. You can see August scowling at you and everything. Very nice.
Okay! August skulks out of the room and I've finally got control. First things first, a quick peek at the fancy-schmancy new radial menu the devs were going on about:
Not bad. Controls pretty smoothly, currently restricts itself to the options we have unlocked so far. A quick peek at the trainer card for a clearer look at our heroine...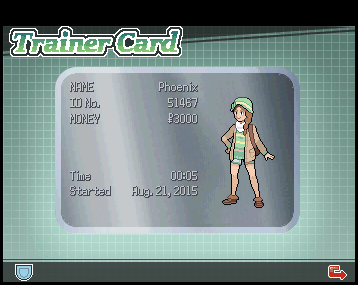 Okay, okay. I was expecting a bit more flair given all the other interface modification they've done, and more importantly I think the text could use some more contrast, but at least we can see that we're lookin' snazzy. Dressed to KO, if you will.
A final quick look around the room because this is starting to drag: my Wii U has Super Smash Bros. in it, and the computer tells me to check my desk drawer for the obligatory starting potion. Nothing else to see, so let's head downstairs and find April and August.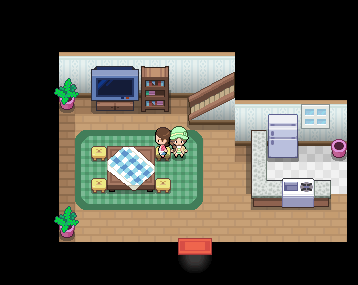 They're already gone, but here's Mom. And a bigger TV. >| How come all the other game protagonists get big TVs in their rooms, but I have to watch Link stab Captain Falcon on that tiny little thing upstairs? You can barely even see it when you punt someone across one of the big stages. Truly my life is hell. Also, apparently "Mom forgot to stock the fridge today". I guess I really need to get a move on and bring home some critter-punchin' money if I have to buy a new TV and feed the family.
I can't believe there are so many sunflowers!
Summary: August still hates science, April hates that August hates science, August says we might as well follow her, oh look a goat. (It's called haibril.) Also, so many sunflowers. Eat faster, goat, or we'll never stop the sunflora menace in time!
Also also, poké balls! Now we're talkin'.
April startles the prof and his haibril, then volunteers all of us for research.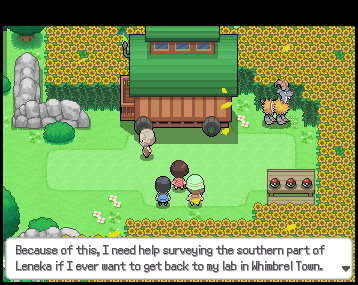 Region namedrop. Welcome to Leneka, kids! (Apparently it's based on New Zealand, in case you were curious.) Now where's my starter, dammit.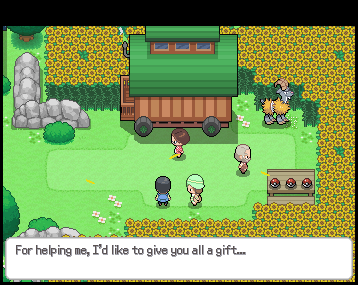 There's my starter, dammit! :D April says I get to pick first because I'm not a big whiny science-hating baby like August, so let's see our choices!
We've got fernling...
...kittorch...
...and bubull. They're all pretty cute, and I don't have a preference. I generally prefer evolved pokémon to unevolved ones and would much rather make my choice based on that, buuuuut I don't have that information and, in the absence of any other deciding factors, I'll just have to fall back on my tried-and-true "be the tool who always picks the fire-type" method. I sure hope your evolutions are as badass as you are adorable, kittorch.
TINY MAGICAL MONSTER FRIEND.
They're using headshots of the sprites instead of icons, which is an interesting touch. Also, as you can probably see from this screenshot, the sprites are animated! What you can't see is that my kittorch's name is "Aenjara" and not "Aenjarap"; sorry, the screenshot program does that, and I had to delete the extra letter before confirming the name. I'll need to reassign the hotkey. Unfortunately you can't see the pokémon's gender if you care about that sort of thing. Hopefully they'll add that in the future, and in the meantime hopefully this is a female kittorch and I'm not going to have to reset until the name makes sense. (I'm naming them all after Arilterra characters, because I'm still not done annoying you all with the total lack of context surrounding them. Aenjara is an elf, a villain and a fire-type. This goes nicely with kittorch being a fire starter and also a cat, because a) I have likened cats to elves before and b) everyone knows cats are evil.)
August takes the stronger starter, because of course he does, and April gets the leftovers. I was kinda hoping the girl would get to be the one with the advantageous starter this time, but whatever. Hawthorne gives us our pokédexes and suggests we head toward Route 1 and Corella Town, and then I finally have a chance to get a look at my starter.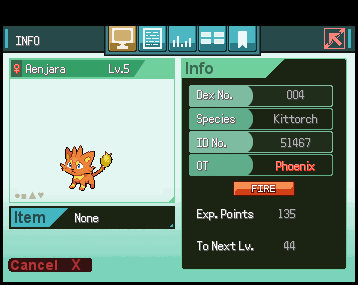 Hey, female the first time out! Lucky! No resetting, then. She's hardy-natured, often lost in thought (not very similar to the original Aenjara, then—I'd probably have gone with careful/thoroughly cunning—but as long as it's not a negative nature I'm cool) and knows scratch and tail whip. Obviously it's very difficult to know for sure at level 5, but her highest stats are currently attack and special attack so I'd imagine that the kittorch line leans toward offense. Makes sense; fire starters generally do.
(Oh, and I forgot to mention: the menu, party screen and several other menus/interfaces currently respond to mouse clicks, if you like using your mouse while gaming. I've got a controller and will largely be sticking with that, though.)
I can walk around now, although I assume if I attempt to go too far April and August will challenge me and I think I'll save that for the next post. This has already become quite long for what is ostensibly supposed to be a quickfire liveblog, so I guess I have no idea what I'm doing and we'll have to see how this goes moving forward. I imagine the number of screenshots will slow down once I'm done pointing out interfacey things, for one. See you next post, which will probably come pretty soon!